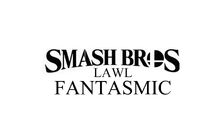 Smash Bros Lawl Fantasmic is a SSBB spoofed/crossover version of Chincherrinas' Smash Bros Lawl series. It's made by Austin A and it's one of the SBL Spin-off series. It combines all of characters from other Lawlers such as Chincherrinas, YTPguy17 ARL.Three Agito90 and Nostalgia Skapokon
Characters:
Sagat (Street Fighter)
Akeno Himejima (Highschool DXD)
Housen Ryofu (Ikkitousen)
Grunkle Stan (Gravity Falls)
Bob the Tomato (Veggietales)
Harley Morenstein (Epic Meal Time)
Deadpool (Marvel)
Blackheart (Marvel)
CM Punk (WWE)
Fujiko Eto (Demon King Daimao)
Kain R Heinlein (Garou Mark of the Wolves)
Alex (Street Fighter)
Iori Yagami (King of Fighters)
Darkwing Duck
Figure Sonic (Sonictoast)
Silver Samurai (Marvel)
Marco Antonio Regil (The Frollo Show)
Hayate Frollo (Frollo's Cousins)
Marina (Sinbad Legend of 7 Seas)
Kermit the Frog (The Muppets)
Chita (The Nutshack)
Master Shake (Aqua Teen Hunger Force)
Guy (Street Fighter)
Dhalsim (Street Fighter)
Shiryuu Chouun (Ikkitousen)
Tai Lung (Kung Fu Panda)
Diggs (Cats and Dogs The Revenge of Kitty Galore)
Oh (Home)
Afro Samurai
Manny (A Bug's Life)
Bugsy (Valiant)
Zira (The Lion King 2 Simba's Pride)
Rolento (Street Fighter)
Gamzee Makara (Homestuck)
Cruella De Vil (101 Dalmatians)
Moltar (Space Ghost Coast to Coast)
Master Roshi (Dragon Ball)
All Might (My Hero Academia)
Hiei (Yu Yu Hakusho)
Haohmaru (Samurai Shodown)
Yuuto Kiba (Highschool DXD)
Kipper the Dog
Abridged Nappa (Dragon Ball Z Abridged)
Widowmaker (Overwatch)
Untold Paper Bowser (The Untold Stories of Paper Mario)
Himiko Toga (My Hero Academia)
Genos (One Punch Man)
Sailor Galaxia (Sailor Moon)
Removed Characters
Sephiroth [Final Fantasy 7]
Gonzo [The Muppets]
Daffy Duck [Looney Tunes]
Non-Playable
Assist Trophies
Akuma [Street Fighter]
Koneko Tejo [Highschool DXD]
Ekitoku Chouhi [Ikkitousen]
Dipper Pines [Gravity Falls]
Scorpion [Epic Meal Time]
Keena Soga [Demon King Daimao]
Geese Howard [Fatal Fury]
Jack Skellington [The Nightmare Before Christmas]
Mephiles the Dark [Sonic]
Hades [Hercules]
Rat [Sinbad Legend of 7 Seas]
Fozzie Bear [The Muppets]
Mc Pee Pants (Aqua Teen Hunger Force)
Puppet Homestar Runner [Homestar Runner]
Bo [LISA]
Mark [The Room]
Minion [Despicable Me]
Donald Trump [Real Life]
Jules Winnfield [Pulp Fiction]
Butch [Cats and Dogs]
Snoop Dogg [Real Life]
Superintendent Chalmers [The Simpsons]
Esdeath [Akame ga Kill!]

Gallery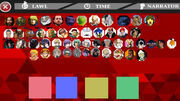 Community content is available under
CC-BY-SA
unless otherwise noted.