Liam Coll is Birch Small's older cousin.
Personality
Edit
Liam was prankster, since he was prank on them using his fart in class. until unknown. He is a funny and skinny guy who draws his own manga.
My Life Me
Edit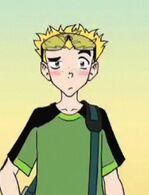 14 year old cousin is a very little is known about Liam other than he's very close to Birch as he's often seen in Birch's house for one reason or another, usually looking for a good time, his goofy personality often causes problems, even getting himself into a "duel" with another kid in school unintentionally, however his personal skills and specialties have their uses and can come out to help and often come out to help his "pod" in tight situations. He loves music, is easily jealous of Raffi over his popularity. Liam also expresses a rather continuous problem of being unable to "find himself" as that he can't find one thing he wants to be or one thing to fully define himself as he will often express a different hobby or interest in different episode. It's expressed that he's been doing this since grade 6. Like Birch, Liam is heavily into Manga, and contributes the plot and writing to Birch's illustrations.
Appearances
Edit
As 14 year old
As 17 year old
Relationships
Edit
Ace Marshall (good friend)
Raffi (Best Friend)
Sandra (Friend)
Ray Sully (Friend/Boss)
Jessie Fillgrim (Friend)
Love Interests
Edit
Serena Callex (Girlfriend)