Ed



Age:

15 (Original)
19 (High School)

Gender:

Male

Occupation(s):

Student

Abilities:

Discovering

Relatives:

Unnamed Parents
Sarah (sister)

Allies:

Eddy
Edd
Don
more..

First Appearance:

Theme:

N/A
Ed is, without a doubt, the strongest of the three Eds, and rivals up there with Rolf for strongest on the show itself, having lifted homes and cars with little to no effort. In a nutshell, though, he can be described as kind-natured and absentminded, barely paying attention to current situations enough to truly learn from them. Yet despite his lack of focus on the day-to-day, he is fully focused on his movies and comic books, and commonly misinterprets them as reality. Even worse, though, than his inability to differentiatreality and fiction, is his hygiene, which to say the least is filthy. His low hygiene does provide humor though, even if a bathtub of gravy is disturbing.
History
Ed,Edd 'n' Eddy
See also: Ed
High School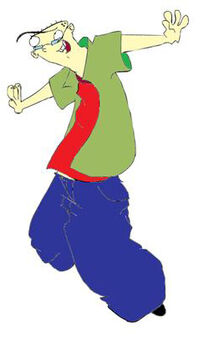 Ed recieved glasses from his parents to correct his lazy eye, but they are also the main reason he passed all the previous classes at school. While Edd is pretty much the only person who does his best in class, Ed's appearance caused alot of false expectations from the teachers; assuming he is smart, while he might be even dumber than he was 5 years ago.
Ed is still sweet, ignorant and naive like he always was, a feature Eddy still likes to take disadvantage of, even though Ed turned quite useless since Eddy grew bigger and stronger than him.
He wears a dirty red shirt and his old green jacket, of which, according to the timeline, the ends of his sleeves were damaged and so cut off.
Appearances
Ultimate war Brawl (as 15 year old Ed)
Eddsworld/Ed,Edd ' N' Eddy HighSchool in Interverse (as 19 year old Ed)
Community content is available under
CC-BY-SA
unless otherwise noted.