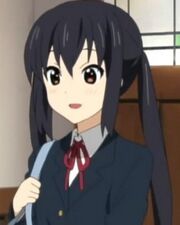 Azusa Nakano
(中野(なかの) 梓(あずさ) Nakano Azusa) a.k.a Azu-nyan, is a new student at Sakura High. She decides to join the light music club after seeing their performance in the school festival and becomes the group's rhythm guitarist.
Name: Azusa Nakano
Age:15
Gender: Female
Occupation(s): Student
Abilities: Guitarist
Relatives: N/A
Allies: Yui,Ritsu,Mio,Tsumugi,Rex,Sawako & more...
First Appearance: Freshman Reception! (K-on!)
Theme: Plain White T's - Hey There Delilah
Personality
Edit
She is currently in the same year and class as Ui Hirasawa and Jun Suzuki, and has quite a mysterious demeanor. She is a self-proclaimed novice guitarist who has been playing the guitar ever since the fourth grade, while her parents are working in a jazz band.
She joins the light music club during the middle of the first season. She is often exasperated by the tea and sweets served by her club mates, and by the costumes they wear. However, she has a certain weakness for sweets and can be calmed down rather easily, sometimes just from being petted. Yui had nicknamed her Azu-nyan (-nyan is a Japanese suffix associated with cats) after convincing her to try on a pair of cat ears and say "meow".
Ironically,Azusa is not too good with cats. In the band, she looks up to Mio mostly due because of her maturity. She even tries to give Mio chocolate on Valentine's Day. However, she sometimes unintentionally makes remarks concerning Mio's weaknesses, such as her weight. She gets a tan very easily, once during their time at the beach and another during a music festival (even after applying sunscreen). Azusa is always frustrated with the club's aloof behavior, but she tends to get roped in inadvertently, and ends up enjoying herself as well. She is also very smart and takes care of Yui when she can, making study plans for her, teaching her guitar, and cheering her up by meowing or cosplaying for her.
After the original four members graduated, she succeeds Ritsu as the club's president. In the manga, Jun and Ui both joined the club immediately after the seniors graduated. However, in the anime, it was revealed in episode 26, which takes place before episode 23, that to Yui's delight, Jun and Ui were practising with Azusa in preparation for the year's school opening session. This implies that Jun and Ui implicitly joined before the seniors graduated, in the anime.
She gets her own unique storyline in her senior year at high school in the latest manga issue with Jun and Ui.
Appearance
Edit
Courage the cowardly dog
Harvey Birdman back in Business